CPF-1204 Silicone heel cushions
Size :S, M, L
Material :Silicone
QTY :1 PR
Feature :
Softer insert on heel area helps absorb shock and relieve pain.
Redistributes pressure on the foot.
Different thickness of medial and lateral edge could be used for pronation or subination.
Application :
Heel Pain.
Applicable for long time standing.
Slight varus or valgus.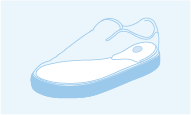 Copyright © 2014. All Rights reserved.