CPF-1206 Silicone heel spur pads
Size :S, M, L
Material :Silicone
QTY :1 PR
Feature :
U-shaped design helps absorb shock and reduce pressure on the heel area.
Provides heel stability and prevents ankle sprain.
Relieves heel pain and heel spur.
Easy to fit the most heel shape of the shoes.
Application :
Heel Pain.
Calcaneus instability.
Flatfoot.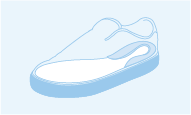 Copyright © 2014. All Rights reserved.